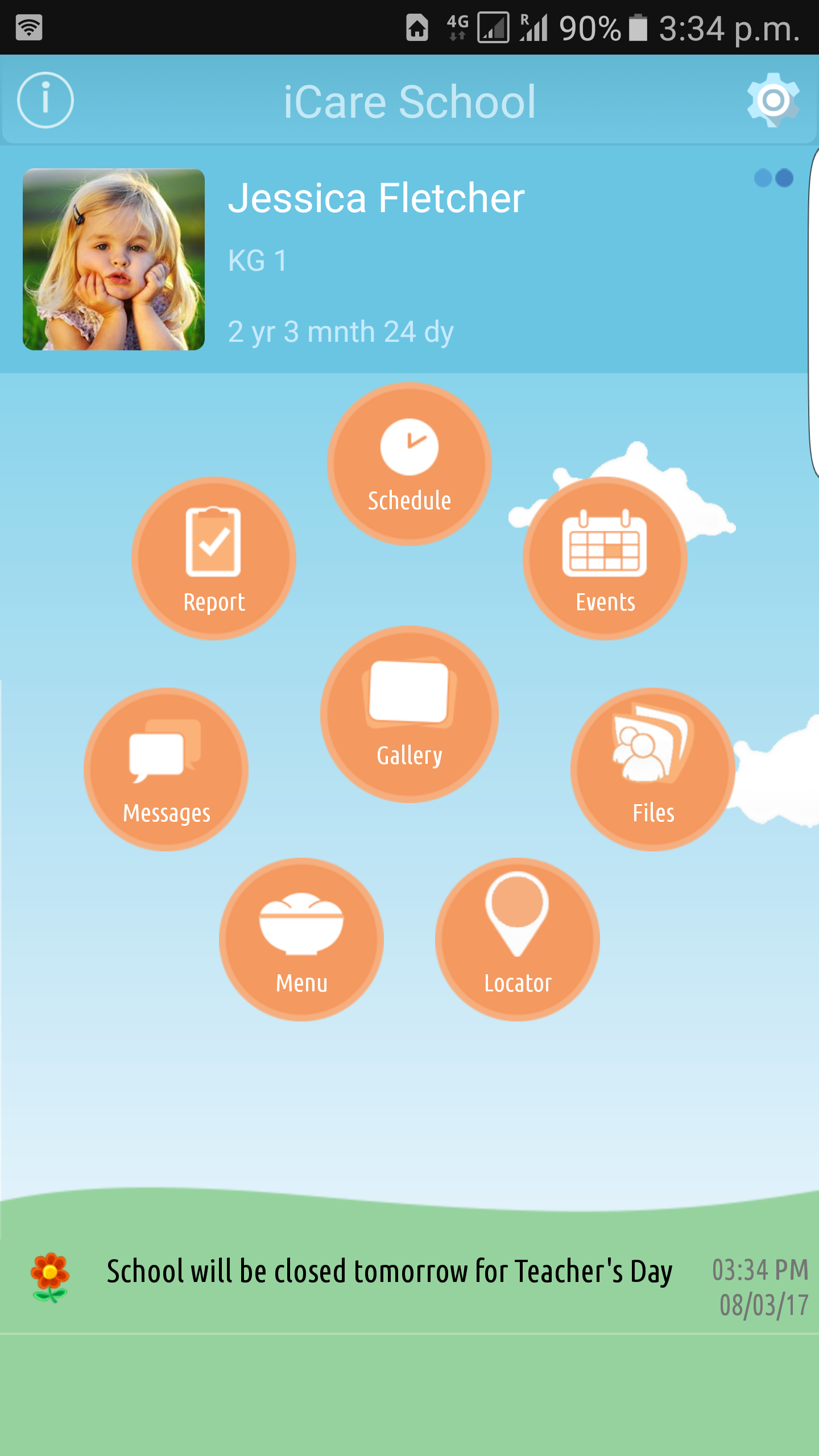 Empowering Educators, Engaging Parents
iCare helps educators connect, coordinate and keep children safe. Through the iCare App you can deliver all the information a parent might need, to their smartphone - the device they use for everything else!
It helps you to communicate with parents and carers in a way that is convenient to them, and is easy for you to manage too.
Save Time and Money
Through regular communication and real-time updates, you can introduce efficiencies that will save your staff's time and organization's money.
Simplify
Our apps are easy to use and update, but help is always available if you need support. You can make as many updates and changes to the appearance of your app at no extra cost.
Engage
By providing parents and caretakers with a dedicated app, you make information accessible in real time and at their convenience.
Go Green
By uploading documents to your app, you reduce your carbon footprint and avoid printing costs.
Ensure Safety
Help monitor and keep your children safe with features like live webcam feeds and Bus Fleet Management, where you can view which children are on the bus or in the classroom, bus locations and if a driver is speeding – all in real time.
Gather Insight
Capture data and produce reports which can help you improve the day to day running of your school or business. Our Bus app includes analytical tools which will help you improve route efficiency and reduce your fuel costs too!   
We enjoy all the features of the ICare app but most of all we are very happy with the level of support we get from the ICare team.

Queries are answered in a very knowledgeable manner, they are always ready to help us if we require any assistance.

Tree House Nursery

iCare Subscriber Since 2015
iCare gave us total control over our bus fleet and helped us improve our communication with the parents.

The feedback we got from our parents was very positive as well.

The professional training, support, and service level we receive from iCare team is second to none.
We find iCare teamreally passionate about their work and continue to upgrade the app.

Le Lycee Aflec - Dubai

iCare Subscriber Since 2016
iCare Messages Sent in 2016
Keep parents and caretakers up-to-date with term dates and other important events.
Keep a record of all activities like naps or meals, and share updates about the day's activities.
Share special moments and achievements with the year group, class or specific parents.
Communicate with parents through our two way in-app messaging.
Send reminders to parents over the network free of charge to all mobile phones. No more expensive text messages!
View which children are on the bus, bus locations and if a driver is speeding – all in real time.
Broadcast your sports tournaments and school events live to parents to watch on their devices.
All our features are available to you via your dedicated iCare App Management System which allows you to log in to your app and make updates and changes easily.
Frequently Asked Questions
When children are young, parents often want more updates to reassure them that their child is in safe hands and happy. Nurseries can reassure parents and save time by using the app to send regular updates of activities, eating or sleeping habits throughout the day.
The iCare app also allows for two-way communication which is essential so parents can let the nursery know of any issues or problems. Using the iCare App can take the pressure off staff especially at pick up and drop off times when settling a child into nursery should be the priority.
Parents appreciate any time that can be saved when it comes to school admin. Being able to view an up-to-date calendar anytime, anywhere to see exactly what their children are doing at what time is priceless. Getting reminders about activities is even better!
Having a dedicated app to connect schools with parents sends the message to parents that the school is using today's technology and helps them to be involved in their child's education.
In addition to this parents can track the school bus and rest assured that their child is on the bus and in safe hands.
As experts in app development for educators we also create branded apps and can guide you through the process. Thanks to our wealth of knowledge in this area you will save time scoping out what you need and should include.
Best of all our support includes updates so you don't need to worry about maintaining your app when the next mobile operating system is released. Contact us today for more information.